Details

November 28, 2018
1:00-3:00PM
Undesign the Redline
A Guided Exhibit Tour
Mt. Pleasant NOW Development Corporation
APA Cleveland has reserved a private guided tour of the exhibit.
Registration is limited to the first 20 people - please click here to RSVP.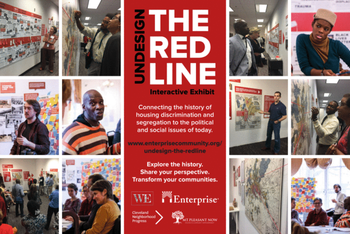 A timeline of discrimination, segregation and housing policy in the U.S.
Undesign the Redline is an interactive exhibit connecting the intentional and systematic racial housing segregation of the 1930s to political and social issues of today, through the powerful narratives of the people and communities affected by redlining and its legacy.
Explore the history. Be inspired by stories of vision and change. Become part of the conversation for new equitable policies and practices.
Wednesday, November 28, 1-3PM
Mt. Pleasant NOW Development Corporation
13815 Kinsman Road
Cleveland, OH 44120
On-site parking is available
Hosted by: Enterprise Community Partners, Cleveland Neighborhood Progress, and Mt. Pleasant NOW Development Corporation
2018-11-28 13:00:00
2018-11-28 15:00:00
America/Detroit
Undesign the Redline
  APA Cleveland has reserved a private guided tour of the exhibit. Registration is limited to the first 20 people - please click here to RSVP. A timeline of discrimination, segregation and housing policy in the U.S. Undesign the Redline is an interactive exhibit connecting the intentional and systematic racial housing segregation of the 1930s to political and social issues of today, through the powerful narratives of the people and communities affected by redlining and its legacy. Explore the history. Be inspired by stories of vision and change. Become part of the conversation for new equitable policies and practices. Wednesday, November 28, 1-3PM Mt. Pleasant NOW Development Corporation13815 Kinsman RoadCleveland, OH 44120On-site parking is available Hosted by: Enterprise Community Partners, Cleveland Neighborhood Progress, and Mt. Pleasant NOW Development Corporation 
Mt. Pleasant NOW Development Corporation
---