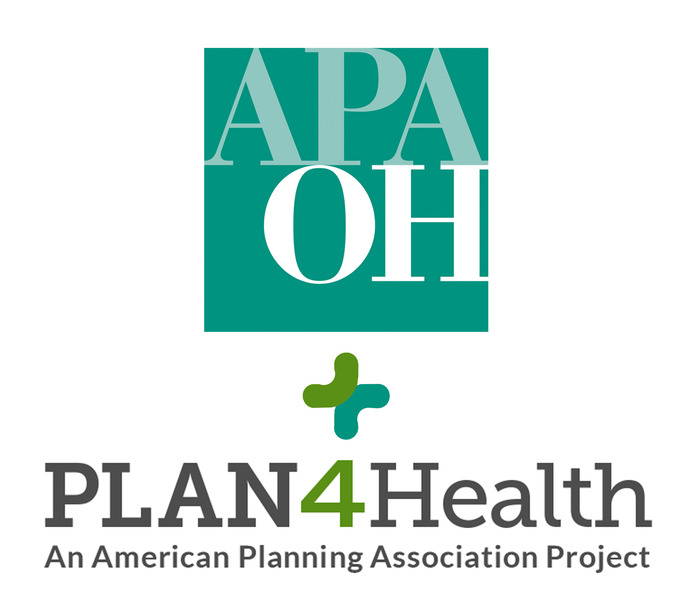 BACKGROUND
Plan4Health is a three year project designed to strengthen the connection between the planning and public health professions. It connects communities across the country, funding work at the intersection of planning and public health. Anchored by members of the American Planning Association (APA) and the American Public Health Association (APHA) and supported by the Centers for Disease Control and Prevention (CDC), Plan4Health supports creative partnerships to build sustainable, cross-sector coalitions. These coalitions are made up of APA chapters, APHA affiliates, local non-profits, schools, parks and recreation departments, universities – and more! These coalitions are working to launch and to strengthen strategies for healthy planning.

PLAN4HEALTH COALITIONS
Over the past two years, APA Ohio received funding for three projects here in Ohio!
Columbus
Increasing opportunities for physical activity in Columbus is the goal of the Columbus Public Health's Chronic Disease Prevention Advisory Board. Throughout this project and beyond, strategies to increase and promote physical activity were implemented, and include:
Increasing the number of elementary and middle schools implementing Safe Routes to School Travel Plan recommendations
Increasing the number of employers in Columbus who encourage active commuting
Incorporating a health impact assessment into the Connect Columbus multimodal transportation plan
Developing a strategic plan for Central Ohio Greenways that includes recommendations to improve trail access and provide trail based programming for residents

Summit County
Summit County believes higher levels of community health are possible through urban design. To achieve this, Plan4Health Summit County will:
Incorporate Complete Streets policies into existing transportation plans
Expand use of garden space throughout the community placing an emphasis on bringing farm fresh produce to the community
Introduce client choice pantries to the existing pantry system

Lake County
The Plan4Health Lake County coalition aims to develop personalized Community Health Action Plans for communities in Lake County lacking access to healthy foods and opportunities for physical activity. By working with a diverse group of professional partners and residents, Plan4Health Lake County will create a model for developing comprehensive Community Health Action Plans in addition to the Plan itself.

PLANNERS4HEALTH
The Planners4Health initiative marks the three year culmination of APA's $9 million Plan4Health program. APA Ohio has received a $45,000 grant in this last phase. This six month initiative to begin February 2017 will ensure planners and public health professionals have access to information and resources to help their communities more easily support and implement healthy living choices.
APA Ohio will use the grant funding to broadly share knowledge and resources on building coalitions with public health professionals and more strongly integrating public health into local and regional planning practices.
The program serves both as an opportunity to disseminate lessons learned from previous coalition work, and a chance to sustain the health agenda within APA.
Summary:
The mission of Planners4Health here in Ohio is to institutionalize the relationship between planning and health at the APA Ohio Chapter level. Initial questions the task force asked themselves were:
How can APA Ohio continue the momentum established at the national level?
How can APA Ohio disseminate experiences and lessons learned from Cohorts One & Two to membership in an impactful way?
The task force determined three (3) major deliverables for this project:
Engage APA Ohio members through a chapter-wide survey
Conduct a targeted roundtable with key stakeholders across the state
Develop a final summary of project findings and establish action items
Chapter-Wide Survey
The purpose of the survey was to get a snapshot of the current status of health and planning in Ohio. Our aim was to understand the organizations and regions engaging in planning and public health efforts, the public health problems that exist across the state of Ohio, and the technical assistance and tools still needed to bring both planning and public health professionals to the same table in efforts to address public health issues. The survey was built for both an audience of both planning and public health professionals.
We received 145 responses from both APA Ohio members and public health professionals across 34 Ohio counties. Approximately 10% of the respondents were public health professionals. Click here to view the survey results.
Roundtable
In July, the task force conducted a roundtable with the Ohio Public Health Association (OPHA). Outcomes included their understanding of the Plan4Health initiative and a joint interest in collaborating on a regular basis.
Action Items
The APA Ohio board is adopting the results of the assessment survey as an ongoing element of the APA Ohio Legislative Committee and Education Committee. Specifically:
Legislative Committee

Advocate for a Health and Equity in All Policies approach to policy and decision making at state and local levels.
Identify policy and advocacy champions at the state and local levels that will help facilitate the mission.
Prepare chapter position statements on key issues related to planning and public health.
Work with established cross-sector partners on policy and advocacy initiatives to build a strong front for the mission.
Education Committee

Work with established cross-sector partners on educational events such as conferences and workshops to help integrate planning and public health on a tangible scale.
Establish a presentation packet (PowerPoint and handouts) for local planning events and commissions to relay the importance of planning and public health, ways in which to incorporate each other, and tools/resources to help facilitate the process.
OPHA Public Policy Institute (March 2018)
Yearly 1-day OPHA conference in Columbus that sees ~75 attendees from across the State of Ohio
Focus is on learning about public health, social determinants of health and the impact on education, and the importance of incorporating health and equity into all policies
Idea is to make this a joint conference in 2018 by incorporating planning into the discussions throughout the day and ways in which to collaborate between public health and planning
Ohio Public Health Combined Conference (May 2018)
Yearly 3-day OPHA conference in Columbus that sees ~150 attendees from across the State of Ohio
Focus is on updating those interested in public health on current trends and issues within the scope of public health
Idea is to table at this event, and coordinate a session(s) on topics related to the outcome of the Public Policy Institute conference

PEER LEARNING NETWORK
Plan4Health's Peer Learning Network (PLN) connects planners and public health professionals creating change in their communities via a virtual network.

You know your communities best – and Plan4Health is committed to elevating and to amplifying the expertise of Plan4Heath coalitions by showcasing your work and the work of your peers.

The PLN is open to organizational partners, community leaders, professional allies and anyone passionate about creating vibrant, healthy places!

CURRICULUM WEBINAR SERIES
A cornerstone of Planners4Health is a six part curriculum series guiding members through each step of the project. Five of six sessions will be offered via webinar for CM credit. Anyone is welcome to attend the online sessions; please follow the links below to register:
Session One: Assessing the Healthy Communities Landscape
Session Two: What We Measure Matters: Metrics, Data, Sources, and Methodologies
Session Three: Applying an Equity Lens
Session Four: Building Coalitions and Engaging the Community (closed session)
Session Five: Communications: Framing, Messaging, and Marketing