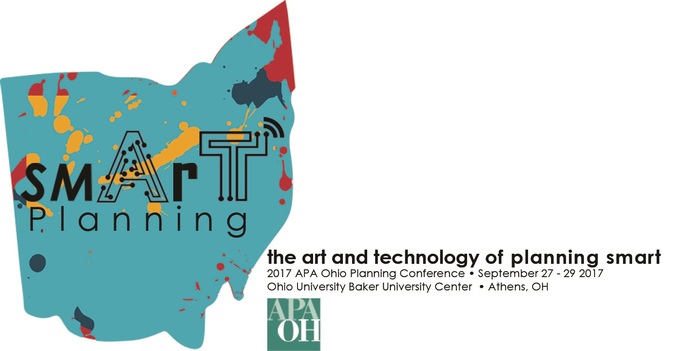 2017 APA Ohio Planning Conference
September 27 - 29 | 2017
The Central Ohio Section of APA Ohio is proud and excited to be the host of SPC17 on the Ohio University Campus in Athens Ohio!


Preliminary Brochures
>> Conference Brochure
>> Professional Development Workshop Brochure


Upcoming Deadlines

Conference Information
Professional Development Workshop |
September 27
Baker University Center
1 Park Place
Athens OH 45701
directions
SPC17 |
September 28-29
Baker University Center
1 Park Place
Athens OH 45701
directions
Parking:
The Baker University Center garage is available for a fee. For more information and rates, click here.
If you are staying at the Ohio University Inn, a complimentary shuttle service will be available to and from the Baker University Center in the morning and afternoon on Thursday and Friday.

Conference Hotel
APA has arranged a group discount at the Ohio University Inn, which is a short walk on campus to the Baker University Center. This special rate will be available until September 5.
To make your reservation, call 866-593-6661 and ask for the "APA 2017 Conference rate" or click here to make your reservation online.
Ohio University Inn
331 Richland Avenue
Athens OH 45701
866.593.6661
Single $123.00/night
Double $123.00/night
Suite $189.00/night
Update:
Single/Double rooms are no longer available at the Ohio University Inn. Other hotels in the local area include Hampton Inn, Holiday Inn Express, and Fairfield Inn, among others.


Registration
REGISTRATION IS NOW CLOSED.
ONSITE REGISTRATION WILL BE AVAILABLE. FOR QUESTIONS, EMAIL INFO@OHIOPLANNING.ORG.
REGISTRATION RATES


You may register multiple attendees from the same organization on one invoice. If you are registering both members and non-members at the same time, you must log in to the registration form with the member's information first.


Registration fees may be paid by check or by credit card - select your preference during the registration process. For check payment, an invoice will be emailed to you automatically. Please make checks payable to:
APA Ohio
P.O. Box 4085
Copley, OH, 44321


Please note that cancellation refunds must be requested in writing to info@ohioplanning.org before September 15; a $25 processing fee will apply to cancellations after September 15.
SCHOLARSHIPS
APA Ohio is offering scholarships to cover registration fees for the 2017 APA Ohio Planning Conference: up to 3 graduate and undergraduate student awards ($125 each) and/or up to 3 professional and citizen planner awards ($285 each).
Scholarships are based on financial need, training needs, community needs, community involvement, and APA service. Students must be enrolled at an Ohio College or University in a planning or related program. Students are required to volunteer four (4) hours of time throughout the conference.
Important Dates:
July 26 > Applications due
August 2 > Recipients notified
August 7 > Recipients must be registered

Program Highlights
PROFESSIONAL DEVELOPMENT WORKSHOP

Wednesday, September 27 | 8:30 AM - 4:30 PM
This year's professional development workshop will focus on advocacy and policy. The morning session will bring in experienced elected officials and communications professionals to discuss effective means of advocating with legislators and other decision makers. In the afternoon there will be facilitated discussions on planning policy issues with policy experts to better understand specific planning issues and how to more effectively convey these issues using skills discussed in the morning session. A continental breakfast and boxed lunch will be provided.
Click here for a preliminary schedule!


If you would like to register for just the Professional Development Workshop (and not the conference), click here.
KEYNOTE + PLENARY SPEAKERS

Keynote Speaker | Thursday, September 28 @ 11:30 AM


APA Ohio is thrilled to announce the 2017 APA Ohio Planning Conference Keynote address will be given by world renowned public artist Janet Echelman.

Janet Echelman is a world renowned American sculptor and public artist. She builds living, breathing sculpture environments that respond to the forces of nature — wind, water and light — and become inviting focal points for civic life. Exploring the potential of unlikely materials, from fishing net to atomized water particles, Echelman combines ancient craft with cutting-edge technology to create her permanent sculpture at the scale of buildings. Experiential in nature, the result is sculpture that shifts from being an object you look at, to something you can get lost in.

Janet is the recipient of the Guggenheim Fellowship, the Harvard University Loeb Fellowship, a Fulbright Lectureship, and the Aspen Institute Crown Fellowship. Her TED talk "Taking Imagination Seriously" has been translated into 34 languages with more than one million views. She has been named an Architectural Digest Innovator for "changing the very essence of urban spaces." She recently received the Smithsonian American Ingenuity Award in Visual Arts, honoring "the greatest innovators in America today."

To learn more about Janet, visit her website at www.echelman.com.
This event is included with full and Thursday-only conference registrations. Luncheon-only tickets for individuals and groups not attending the conference will be available in the coming weeks.
To purchase a corporate lunch table (8) or individual ticket, click here.
Plenary Session | Friday, September 29 @ 8:15 AM

The 2017 APA Ohio Planning Conference Plenary Session will discuss the opportunity and challenge of deploying smart technologies and fiber in communities. New smart technologies will change the way planners and other decision makers address problems and solutions in the transportation, economic development, permitting, and zoning sectors among others.
Panelists for this plenary include Steve Patterson, Mayor of Athens; Dana McDaniel, Dublin City Manager and founder of the Dublin Intelligent Community Global Institute; John Glazer, Director of Ohio University's TechGROWTH Ohio; and Thea Walsh, Director of Transportation Systems and Grant Funding at MORPC. The moderator is Mackenzie King, Director of Design Research and Insight Translation at Lextant. Be sure to join us for this dynamic session!


MOBILE WORKSHOPS
Bikes and Brews | Thursday, September 28 @ 1:30 PM
The Bikes and Brews mobile workshop will take conference attendees on a guided tour of the HockHocking Adena Bikeway and the craft breweries located along the bike path. The tour will also include discussions on the many infrastructure projects that have been completed to make the bike path and more connections to it as well as local history. Need to rent a bike? A limited number of bikes are available to rent for $25. Please contact Paul Logue to make a reservation.
Historic Ridges Walking Tour | Friday, September 29 @ 10:00 AM
The Historic Ridges walking tour mobile workshop will take attendees on a guided tour on the grounds and buildings of the historic former Athens State Hospital. The area, now known as the Ridges, comprises about 730 acres of land and 700,000 gross square feet of buildings and is on the National Register of Historic Places. Built following the Kirkbride Model in the 1860s, the asylum was a regional mental health hospital operated by the state of Ohio. Under the Kirkbride plan the hospital was designed to be self-sustaining with farms, orchards, dairy, and livestock all tended by patients and employees.
AICP TEST PREP

Thursday, September 28 | 3:15 PM - 4:45 PM
Gain an overview of the AICP exam, its content, and topic areas. Learn about strategies to complete the application, how to address the five types of questions on the exam, and about abundant resources to help you prepare for the exam. Participants will also be given an overview training in several important exam topic areas, and will have the opportunity to talk with recent test takers and ask questions. Study manuals (CD) will be for sale at the end of the session for $15.00.

Sponsor the Conference
Sponsors for this event will reach hundreds of planners, elected officials, allied professions and public agencies from all over Ohio, as well as from northeastern Kentucky and northern West Virginia during this three-day event. Please consider sponsoring today.

Sponsorship Deadlines:
For inclusion in the preliminary brochure | July 1
For inclusion in the final program | August 21

Download a PDF of our sponsorship opportunities >> here
Questions?
Contact Amanda Golden at amanda@designinglocal.com or 706.346.5696

All About Athens

NETWORKING EVENTS & RECEPTIONS
Opening Reception | Wednesday, September 27 @ 6:00 PM
Jackie O's Public House & Brew Pub
directions

Conference Reception | Thursday, September 28 @ 6:00 PM
ARTS/West
directions