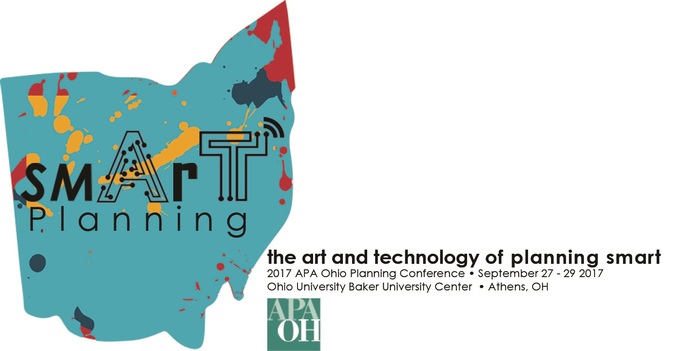 2017 APA Ohio Planning Conference
September 27 - 29 | 2017
The Central Ohio Section of APA Ohio is proud and excited to be the host of SPC17 on the Ohio University Campus in Athens Ohio!

Upcoming Deadlines

Conference Information
Professional Development Workshop |
September 27
Ohio University Inn
331 Richland Avenue
Athens OH 45701
directions
SPC17 |
September 28-29
Baker University Center
1 Park Place
Athens OH 45701
directions

Conference Hotel
APA has arranged a group discount at the Ohio University Inn, which is a short walk on campus to the Baker University Center.
Ohio University Inn
331 Richland Avenue
Athens OH 45701
866.593.6661
Single $123.00/night
Double $123.00/night
Suite $189.00/night
Rates shown do not include state and local taxes, currently 13% plus individual nightly fees. All reservations require a credit-card guarantee. Be sure to identify yourself as an APA Ohio attendee when booking your room to ensure you receive our discounted rate and APA Ohio receives credit for your stay. Make any changes or cancellation directly with the hotel.

If your group is tax exempt, a tax exemption certificate must be provided prior to check-in. The form of payment for a tax exempt organization must be Organizational Check or Credit or Purchase Order.

Registration
Registration will open summer 2017.

Program Highlights
PROFESSIONAL DEVELOPMENT WORKSHOP

Wednesday, September 27 | 7:30 AM - 4:30 PM
Kick off the conference by joining us on a day-long event dedicated to your professional growth. More info to follow!


KEYNOTE + PLENARY SPEAKERS

Keynote Speaker | Thursday, September 28 @ 11:30 AM


APA Ohio is thrilled to announce the 2017 APA Ohio Planning Conference Keynote address will be given by world renowned public artist Janet Echelman.

Janet Echelman is a world renowned American sculptor and public artist. She builds living, breathing sculpture environments that respond to the forces of nature — wind, water and light — and become inviting focal points for civic life. Exploring the potential of unlikely materials, from fishing net to atomized water particles, Echelman combines ancient craft with cutting-edge technology to create her permanent sculpture at the scale of buildings. Experiential in nature, the result is sculpture that shifts from being an object you look at, to something you can get lost in.

Janet is the recipient of the Guggenheim Fellowship, the Harvard University Loeb Fellowship, a Fulbright Lectureship, and the Aspen Institute Crown Fellowship. Her TED talk "Taking Imagination Seriously" has been translated into 34 languages with more than one million views. She has been named an Architectural Digest Innovator for "changing the very essence of urban spaces." She recently received the Smithsonian American Ingenuity Award in Visual Arts, honoring "the greatest innovators in America today."

To learn more about Janet, visit her website at www.echelman.com.
This event is included with full and Thursday-only conference registrations. Luncheon-only tickets for individuals and groups not attending the conference will be available in the coming weeks.
Plenary Session | Friday, September 29 | 8:15 AM

The 2017 APA Ohio Planning Conference Plenary Session will discuss the opportunity and challenge of deploying smart technologies and fiber in communities. New smart technologies will change the way planners and other decision makers address problems and solutions in the transportation, economic development, permitting, and zoning sectors among others.
Panelists for this plenary include Steve Patterson, Mayor of Athens; Dana McDaniel, Dublin City Manager and founder of the Dublin Intelligent Community Global Institute; John Glazer, Director of Ohio University's TechGROWTH Ohio; and Thea Walsh, Director of Transportation Systems and Grant Funding at MORPC. The moderator is Mackenzie King, Director of Design Research and Insight Translation at Lextant. Be sure to join us for this dynamic session!


TRACKS + MOBILE WORKSHOPS
Coming Soon!




Sponsor the Conference
Sponsors for this event will reach hundreds of planners, elected officials, allied professions and public agencies from all over Ohio, as well as from northeastern Kentucky and northern West Virginia during this three-day event. Please consider sponsoring today.

Sponsorship Deadlines:
For inclusion in the preliminary brochure | July 1
For inclusion in the final program | August 21

Download a PDF of our sponsorship opportunities >> here

Questions?
Contact Amanda Golden at amanda@designinglocal.com or 706.346.5696

All About Athens

NETWORKING EVENTS & RECEPTIONS
Opening Reception | Wednesday, September 27 @ 6:00 PM
Jackie O's Public House & Brew Pub
directions

Conference Reception | Thursday, September 28 @ 6:00 PM
The Dairy Barn Arts Center
directions

More info to follow!