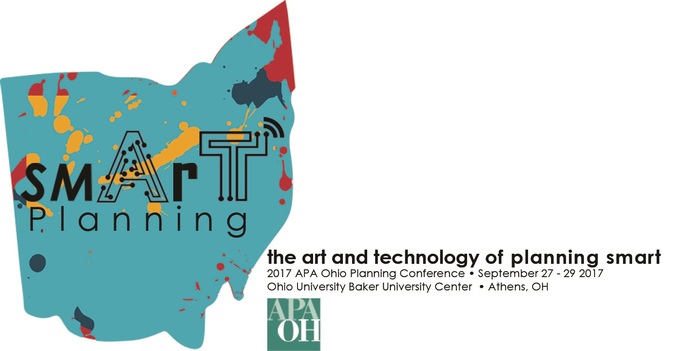 2017 APA Ohio Planning Conference
September 27 - 29 | 2017
The Central Ohio Section of APA Ohio is proud and excited to be the host of SPC17 on the Ohio University Campus in Athens Ohio!

Conference Information
Professional Development Workshop |
September 27
Ohio University Inn
331 Richland Avenue
Athens OH 45701
directions
SPC17 |
September 28-29
Baker University Center
1 Park Place
Athens OH 45701
directions

Conference Hotel
APA has arranged a group discount at the Ohio University Inn, which is a short walk on campus to the Baker University Center.
Ohio University Inn
331 Richland Avenue
Athens OH 45701
866.593.6661
Single $123.00/night
Double $123.00/night
Suite $189.00/night
Rates shown do not include state and local taxes, currently 13% plus individual nightly fees. All reservations require a credit-card guarantee. Be sure to identify yourself as an APA Ohio attendee when booking your room to ensure you receive our discounted rate and APA Ohio receives credit for your stay. Make any changes or cancellation directly with the hotel.

If your group is tax exempt, a tax exemption certificate must be provided prior to check-in. The form of payment for a tax exempt organization must be Organizational Check or Credit or Purchase Order.

Registration
Registration will open summer 2017.

Program Highlights
SESSIONS
We need dynamic, insightful and inspiring presenters for the 2017 APA Ohio Planning Conference! The theme of the conference is SmART Planning | The Art and Technology of Planning Smart. Session proposals are due no later than March 27, 2017.
For more information on session criteria and guidelines, click here.
Please note that in order to participate in a session, APA Ohio members will be required to register for at least the day of the conference on which they will be speaking. Non-members are encouraged but not required to register to participate in a session, so long as they only attend the session they are participating in.
PROFESSIONAL DEVELOPMENT WORKSHOP

Wednesday, September 27 | 7:30 AM - 4:30 PM
Kick off the conference by joining us on a day-long event dedicated to your professional growth. More info to follow!


PLENARY + KEYNOTE SPEAKERS
We have a secret. Find out in:

TRACKS + MOBILE WORKSHOPS
Coming Soon!




All About Athens
NETWORKING EVENTS & RECEPTIONS
Opening Reception | Wednesday, September 27 @ 6:00 PM
Jackie O's Public House & Brew Pub
directions

Conference Reception | Thursday, September 28 @ 6:00 PM
The Dairy Barn Arts Center
directions

More info to follow!