Great Places in Ohio
2018 GREAT PLACES IN OHIO WINNERS

The Ohio Chapter of the American Planning Association (APA Ohio) is pleased to announce winners of the inaugural Great Places in Ohio awards. The biennial awards program honors outstanding physical spaces throughout the state. Because we plan, great places exist all across Ohio.
APA Ohio presented four awards at the 2018 Ohio-Kentucky-Indiana (OKI) Regional Planning Conference in Cincinnati on October 3.
APA Ohio President Kimberly Lieber, AICP, shared "The inaugural Great Places Awards Program is meant not only to recognize and celebrate the important work of Ohio planners but also to raise awareness among residents, community stakeholders and state and local officials regarding the transformative power of planning."
The 2018 Great Places in Ohio Award winners:
Commercial District | Downtown Delaware, Delaware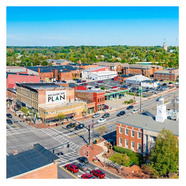 The city of Delaware is a growing community of 40,000 people 25 miles north of Columbus. It celebrates the historical context of the community by integrating its past into current and future success. This 210-year-old dynamic downtown has leveraged private investments to benefit the public realm since 1856, when the proceeds from a presentation by Frederick Douglass went to support the Underground Railroad. Since that time, community and city leadership have collaborated with local businesses and Ohio Wesleyan University through savvy uses of planning tools and funding opportunities. The vibrancy of this commercial district is a result of planning efforts to update historic façades, implement streetscape improvements, install wayfinding signage and preserve the century-old Strand Theater.
Nominated by the City of Delaware.
Commercial District | Bridge Street, Ashtabula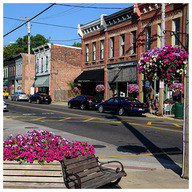 The Port of Ashtabula has played a vital role in the northeast Ohio shipping industry for centuries. Shifting world economies and introduction of technology that allowed faster and cheaper loading and unloading of cargo kept the port a critical link in the north coast shipping industry. Decline in the economy after the recession spurred the community into action, especially when ODOT closed the lift bridge for repairs lasting nearly a year. By embracing its history and invigorating local involvement through festivals and community pride, this near victim of the rust belt economy is now thriving.
Nominated by the Lift Bridge Community Association.
Public Space | Wade Oval, University Circle, Cleveland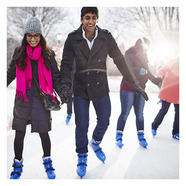 Wade Oval is a seven-acre park that dates back to 1874, when pioneer Newell Cozad spent $60,000 of his own money to lay the groundwork for a park. Cozad's concept was advanced when philanthropist Jeptha Wade, co-founder of the Western-Union telegraph company, donated the land to the City of Cleveland in 1882. Over the next 80 years, the parkland became the front lawn to Cleveland's Museum of Art, History Center, Museum of Natural History and Botanical Garden. In 2000, University Circle Inc., a non-profit organization, initiated a strategic plan and capital improvement program to give Wade Oval its own identity. Subsequent transit and non-vehicular transportation improvements better link the park to the museums that ring it. Now, Wade Oval is a gathering place for music, play and picnicking for thousands in the midst of the cultural temples of Cleveland.
Nominated by University Circle Inc.
Public Space | Wildwood Metropark, Toledo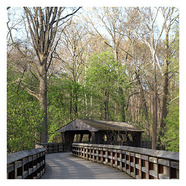 Surrounded by suburban development, Wildwood is an oasis balancing rich natural areas with historical, cultural and recreational opportunities. The 493-acre park exists because of a grass roots effort to preserve the estate of Champion Sparkplug magnate Robert Stranahan. The former manor home, built in 1938, serves as the centerpiece of the park and as the headquarters for the Toledo Metroparks. Once private bridle trails are now public hiking trails, attracting over a million visitors every year to explore the surrounding prairie lands. The property also boasts a formal garden designed by Ellen Biddle Shipman, hailed as the "dean of American women landscape architects." The garden at Wildwood is one of only four of her 600+ gardens that retain their original integrity.
Nominated by Metroparks Toledo.
Read the full 2018 Press Release.
NATIONALLY RECOGNIZED WINNERS

Some Ohio great places have already been recognized at the national level by APA as part of the Great Places in America program. They are automatically added to our collection.
Cincinnati

Cleveland

Cleveland/Shaker Heights/Beachwood

Columbus

Dayton

Mariemont

2018 Ohio Nomination Information

2018 Schedule
| | |
| --- | --- |
| May 3 | Call for nominations released |
| July 1 | Nominations due |
| Early September | Winners notified |
| October 3 | Winners announced; awards presentation |
Nominations will typically require the following information:
Narrative one-page summary (<1,000 words) describing why this is a great place, addressing the following:

Name and location
Category (residential neighborhood; commercial district; public space)
Character and personality
Unique characteristics
Special history or story
What happens in this great place?

Describe the planning initiative that contributed to the creation/nurturing of this great place (<500 words). Include a website link to this document, if available.

Upload at least two and no more than five photos of your Great Place. Photos must be in JPEG format and sizes should be consistent. Upload each JPEG file separately and include a short, descriptive caption for each, including the Great Place name (for example: Great Place Name_Annual Spring Festival). Images will be used in the judging process and for awards publicity. File size should be sufficient for print materials.


Note: all information must be uploaded in one session; you cannot return to the form and edit it. Please compose your responses and check word limits before beginning your application.
The Fine Print

Great Places in Ohio Awards will occur on a biennial cycle, during even-numbered years.
Multiple nominations from a community may be submitted, but only one Great Place award will be granted within a community during a specific cycle.
APA reserves the right to select multiple winners or no winners in a specific category.
Unsuccessful nominations may be resubmitted in the following cycle.
2018 awards will be presented at the OKI Planning Conference in Cincinnati on October 3, and also announced via email and social media.
A press release will be provided for each winner to customize and use.
Each winner will receive a certificate and sign.