Events
October 26-29, 2017
hosted by the Society for American City & Regional Planning History
Cleveland, OH
October 27, 2017
8:00AM-5:00PM
SOLD OUT!
Hilton Garden Inn, Mayfield Village, OH
Akron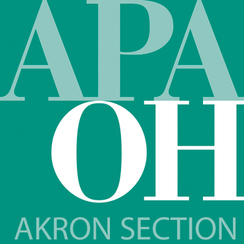 The Akron Section of APA Ohio includes members in Medina, Portage, Stark, Summit and Wayne Counties. Lunch meetings with a presentation are held on the last Thursday of every other month. Alternating months feature tours of local development projects of interest
Headlines
09/01/2017
Registration closes October 13
08/08/2017
September 7 | RSVP Today!
08/02/2017
August 17 | Tickets on sale now!
01/06/2017
APA Akron Section
Leadership
Akron Section Director
Owner Egan Consult LLC
Phone: 330-734-9119

Assistant Director
Phone: 330-699-4480

Secretary/Treasurer
Planning Director
City of Wadsworth
Phone: 330-335-2752