Complete Story

07/01/2021
We Plan CLE 2021
July 9 - August 10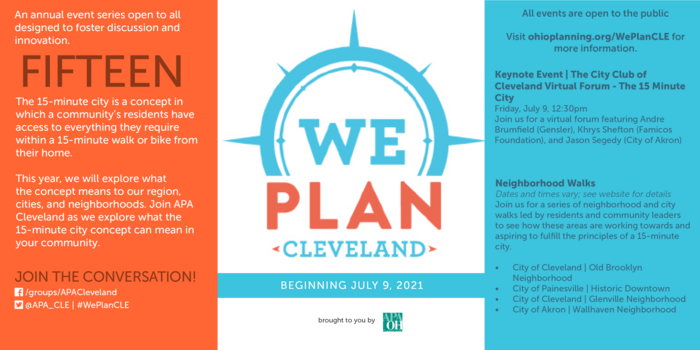 WePlan CLE's 2021 theme, FIFTEEN, highlights an emerging (or re-emerging) planning and design topic taking on new meaning as we emerge from pandemic health restrictions. The 15-minute city is a concept in which a community's residents have access to everything they require within a 15-minute walk or bike from their home. The concept fulfills six social functions: living, working, supplying, caring, learning, and enjoying.
When the pandemic shuttered cities and neighborhoods, it brought to light the importance of proximity for social links and amenities. People began to rediscover their local assets (shops, parks, outdoor patios, walkable sidewalks, etc.). This kick started a trend in putting the 15-minute city on agendas across the country. WePlan CLE will explore what the concept means to our region, cities, and neighborhoods. Is this model similar to existing walkability theories, or a renaissance of past trends? Are there neighborhoods which meet the criteria? How are organizations striving to achieve the goals?
Through a series of events, join us as we explore and discuss this topic, deepen our understanding, and consider how the 15-minute city may help up improve the communities in which we live and work.
---