Details

October 3, 2022
Aligning Housing and Economic Development for Ohio's Growth
APA Ohio + OEDA Joint Conference
Dublin OH
Monday, October 3, 2022
8:30 am - 4:00 pm
Bridge Park in Dublin, Ohio
Ohio's economic recovery is challenged by the lack of affordable housing to accommodate the job growth that is taking place in Ohio.
Recognizing the need to proactively address this critical issue, policy makers and practitioners in housing, economic development and planning from around Ohio are coming together to sponsor a one- day convening on "Aligning Housing and Economic Development for Ohio's Growth" to consider how the affordable housing gap is impacting economic growth and effective ways of meeting this need. The Convening is taking place Monday, October 3, 2022, from 8:30 am to 4:00 pm at Bridge Park in Dublin, Ohio.
Sponsors include the Ohio Economic Development Association, the Ohio Chapter of the American Planning Association, the Ohio Capital Corporation for Housing (OCCH), Enterprise, Ice Miller LLC and ZoneCo,
The agenda for the day will dialogue around policy, planning and best practices of aligning housing and economic development. Attendees will hear from policy makers and practitioners in the planning, economic development, and housing fields on understanding the impact of housing costs on economic growth, potential policy changes that could advance housing development (including planning, zoning, building codes), and programs that can help finance housing development. Attendees will also hear from practitioners from communities that have addressed the housing gap. The day will conclude with an interactive discussion how to advance the goal of increasing the supply of affordable housing.
APA Ohio members receive a registration discount! When registering, choose the "OCT. 3 PRE-CON EVENT ONLY: Conference Partners & Affiliates" option and be sure to enter the discount code when prompted!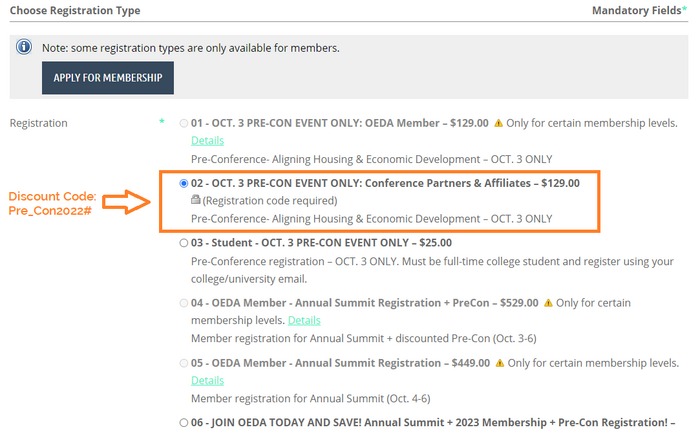 Add to Calendar
aCLuDhaqizCaPxAftmqF167204
10/03/2022
10/03/2022
true
Aligning Housing and Economic Development for Ohio's Growth
Monday, October 3, 2022 8:30 am - 4:00 pm Bridge Park in Dublin, Ohio Ohio's economic recovery is challenged by the lack of affordable housing to accommodate the job growth that is taking place in Ohio. Recognizing the need to proactively address this critical issue, policy makers and practitioners in housing, economic development and planning from around Ohio are coming together to sponsor a one- day convening on "Aligning Housing and Economic Development for Ohio's Growth" to consider how the affordable housing gap is impacting economic growth and effective ways of meeting this need. The Convening is taking place Monday, October 3, 2022, from 8:30 am to 4:00 pm at Bridge Park in Dublin, Ohio. Sponsors include the Ohio Economic Development Association, the Ohio Chapter of the American Planning Association, the Ohio Capital Corporation for Housing (OCCH), Enterprise, Ice Miller LLC and ZoneCo, The agenda for the day will dialogue around policy, planning and best practices of aligning housing and economic development. Attendees will hear from policy makers and practitioners in the planning, economic development, and housing fields on understanding the impact of housing costs on economic growth, potential policy changes that could advance housing development (including planning, zoning, building codes), and programs that can help finance housing development. Attendees will also hear from practitioners from communities that have addressed the housing gap. The day will conclude with an interactive discussion how to advance the goal of increasing the supply of affordable housing. APA Ohio members receive a registration discount! When registering, choose the "OCT. 3 PRE-CON EVENT ONLY: Conference Partners & Affiliates" option and be sure to enter the discount code when prompted! Register
Dublin OH